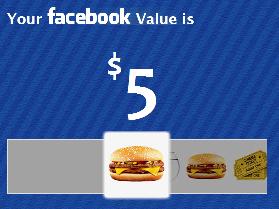 Facebook is a big company thanks to its 900 Million users and its proposed 100+ Billion IPO but have you ever asked how much you are worth to Facebook?
Thanks to online privacy company Abine, we now have a simple tool by which we can calculate our monetary value to Facebook in U.S dollars anyway.
To illustrate the potential for Facebook to lose sight of the importance of the individual (and his or her privacy) amidst the pressure to maintain its ridiculously high valuation/metrics, Abine has created a quiz called the "Val-You Calculator," which, based on your answers to seven questions, determines the dollar value you represent as a user.
These questions ask you where you live (most of Facebook's ad revenue comes from North American companies), how many friends you have, whether or not you play Zynga games, for example, all in an effort to demonstrate that your personal data comes with an implicit dollar-value.
Unfortunately, I was only worth $5 (see image above) to Facebook. Clearly, I'm not a good customer. What about you?