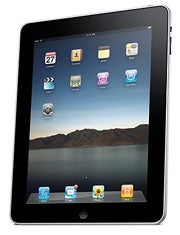 Two years ago Friday, Apple's late co-founder and CEO Steve Jobs unveiled the original iPad, one of the most anticipated Apple products in history.
"There hasn't been this much hype about a tablet since Moses came down from the mountain," Jobs said quoting an earlier New York Times article. Speculation over Apple's touch tablet had been circulating for months, and the as-yet-unseen product was predicted to be the savior of all things print–including books, newspapers, and magazines.
When the Apple slate finally went on sale in the U.S. in April 2010, it quickly won over fans nationwide selling 300,000 units within the first 24 hours. Competitors followed with competing tablets including the Android-based Motorola Xoom and Samsung Galaxy Tab, HP's TouchPad, and the BlackBerry PlayBook.
upcoming iPad 3.