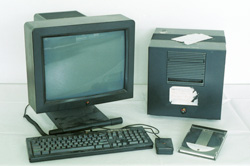 Berners-Lee created a browser-editor with the goal of developing a tool to make the Web a creative space to share and edit information and build a common hypertext. What should they call this new browser: The Mine of Information? The Information Mesh? When they settled on a name in May 1990, it was the WorldWideWeb and It was August 6, 1991, at a CERN facility in the Swiss Alps, when 36-year-old physicist Tim Berners-Lee published the first-ever website. It was, not surprisingly, a pretty basic one — according to CERN.

Info.cern.ch was the address of the world's first-ever web site and web server, running on a NeXT computer at CERN. The first web page address was http://info.cern.ch/hypertext/WWW/TheProject.html, which centred on information regarding the WWW project. Visitors could learn more about hypertext, technical details for creating their own webpage, and even an explanation on how to search the Web for information. There are no screenshots of this original page and, in any case, changes were made daily to the information available on the page as the WWW project developed. You may find a later copy (1992) on the World Wide Web Consortium website.
In 1994, Berners-Lee founded the World Wide Web Consortium (often referred to as "W3C") at MIT in order to create standards for the web to ensure that different websites would all work the same way. Berners-Lee, now 56, is still the director of the W3C, in addition to several other positions he holds.
Although the Web's conception began as a tool to aid physicists answer tough questions about the Universe, today its usage applies to various aspects of the global community and affects our daily lives.
Today there are upwards of 80 million websites, with many more computers connected to the Internet, and hundreds of millions of users. If households nowadays want a computer, it is not to compute, but to go on the Web.
Wikipedia breaks down the History of the WorldWideWeb as display below
Many Reviews are out there on the ways our lives have changed thanks to the WWW and the Internet in the last 20 Years. I was starting to think about Google, Facebook, Wikipedia, Media Stores, Data Sharing, Virtualizations when i saw cbsnews top 20 Web Gifts.
So what gift did the WWW give you?